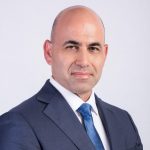 Eran has been a member of the Israeli Bar Association since 1997 and he is a Certified Notary since 2012.
Eran has LL.B and LL.M (commercial law expertise) from the Tel Aviv University and B.A in Economics from the Tel Aviv University.
Eran brings extensive knowledge and experience in a number of legal areas, advising clients from Israel and overseas including corporate and commercial Law and litigation, and real – estate transactions and litigation.
Eran provides continuing legal counseling to companies and individuals activities, advises on acquisition and sale, establishment of business and companies, shareholders and partners agreements, finance and investment agreements and due diligence.
Eran has extensive experience in litigation and representation in courts and arbitrations in complex cases in various commercial fields, including financial claims, administrative pleas, real estate disputes, banking litigation and insolvency.
Eran brings vast experience in real estate advice, including sales and asset purchase (some as part of receivership), real estate partnership agreements, projects and purchase groups' agreements and representation in projects of NOP 38.
Eran was granted with a citation from the President of Israel for excelling soldiers in the IDF.

Direct E-mail: eran@goslaw.co.il