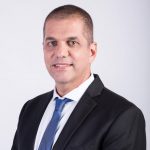 Omer is the Managing Partner of the firm.
Omer joined the firm as a Senior Partner in 2016 after a 10-year term as V.P., General Counsel & Corporate Secretary of EL AL Israel Airlines, and five years in a similar position with Arkia Israeli Airlines.
Having practiced law since 1995 and after many years in the aviation industry, Omer is highly specialized in aviation law. With his deep in-house experience of Israel's largest airlines, and a broad perspective on how airlines work from the inside, Omer brings a unique insight and legal perspective on the challenging airline sector in Israel.
Omer served as a member of the Legal Committee of the International Air Transport Association (IATA) for several years, and also served as Vice Chairman of the Legal Committee, and thus has in-depth experience in international aviation and the ability to understand key issues for the industry.
Omer also specializes in Directors and Officers liability (D&O) insurance claims and Professional Indemnity claims including various corporate and commercial matters.
Omer is a certified mediator and a speaker in various courses for Directors and Corporate Secretaries.
Omer's recent publication of the Israeli chapter for ICLG – Aviation 2021:
http://iclg.com/practice-areas/aviation-laws-and-regulations/israel
Direct E-mail: omer@goslaw.co.il